Ariá Estate Suites & Spa
Welcome to Ariá Estate Suites & Spa in Aria, Mani, at the southernmost tip of mainland Europe
Wisely located in a place where history meets nature, Ariá Estate Suites and Spa offers an elevating hospitality experience in an unparalleled universe of serenity and elegance. Refined and authentic, the 4 star Ariá Estate Suites & Spa, boasts unique apartment style suites that provide complete privacy and thrilling views of the Messinian Bay. Built in 2018, this hospitality gem of Mani, is a mindful fusion of architectural ingenuity, using local materials and building techniques, combined with high-end, luxurious signature features for an elegant, sustainable character.
Inspired by the wild and pure essence of Mani, Ariá Estate reflects a calming, respectful and attentive hospitality philosophy which is visible in every curated detail of a gracious stay: the skillfully designed Suites, the comfortable light filled indoor spaces, the mesmerizing landscape, the breathtaking sea views and glorious sunsets, the creative gastronomy and the luxurious Zen spa, are ideal for guests that cherish the privacy of authentic high living.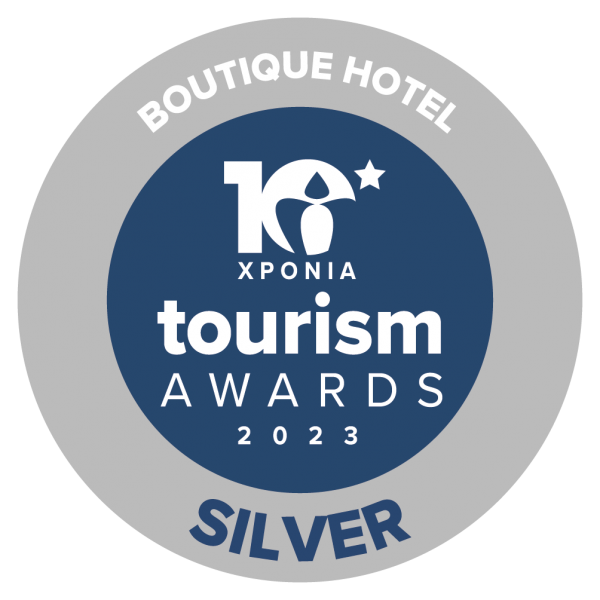 Respecting the architectural tradition of Mani and featuring a sustainable character, we used natural materials, local stones and building techniques in dialogue with the unique landscape that surrounds the Estate. Every detail of the property reflects the calming local palette and embraces authentic customized design, creating a feeling of comfort and serenity.
The 15 luxurious sea view Suites, are built amphitheatrically in three unique property alignments, offering the privilege of undisturbed, birds-eye sea and romantic sunset views, as well as the protection of privacy. Each one of the Suites is a unique creative project with tailor-made design elements and personalized details, combined with high-end, contemporary luxurious features.
For more information, please see the Guidebook 
To discover unique experiences while staying at Aria' Estate Suites & Spa, please click here.